SALT Landscape Architects
is a Los Angeles-based design studio that creates enduring, engaging, and innovative landscapes at a range of scales. The firm's name, derived from "salt of the earth," reflects the grounding and site-specific nature that we strive for in all of our projects. We believe well designed landscapes should be poetic, dynamic, and evolving, as well as ecologically sensitive. Our designs are rooted in the unique character of a site's individual spatial qualities, environment, history and context. Our spaces express the specific enduring qualities of their distinctive location, serves the needs of the users, and connects visitors to the land and environment.
We believe collaboration produces better projects. We work closely with clients and communities to fully understand their objectives and desires for the project and carefully study the existing environmental conditions such as microclimates, soil, topography, wind, and sun patterns that inform the final design. Our realized projects are the product of an open process through which we engage in an ongoing dialogue with the client and community from concept through construction. Through this collaboration, the innovative use of materials, the integration of sustainable strategies, and a sensitivity to the specific site, we create meaningful and memorable spaces.
SALT Landscape Architects
+1 (213) 234-0057
studio@salt-la.com
︎
ALLEN COMPTON
founder / principal
Raised in Dallas, Allen spent his childhood fishing at the lakes in East Texas, which he credits with instilling both a sense of independence and a deep love for landscape. With a Renaissance spirit, he studied physics as an undergraduate before pursuing an MFA in photography, then working in California's burgeoning tech industry in the late 1990s. Though the rapid pace of the industry 'did feel like we were changing the world', he says, it also felt abstract; Allen craved something more tangible - landscape architecture, he found, coupled a creative practice with opportunities for innovation and narrative storytelling along with a chance to apply the structure and rigor of his physics background.

In 2009, he established SALT Landscape Architects, steadily growing the business over a decade into a flourishing boutique firm. A culture-driven office, SALT prioritizes collaboration and 'turning the chair around' – encouraging input and feedback from all team members. And, for Allen, assembling a team with diverse backgrounds and experience is crucial. A strong egalitarian thread runs through not only the company culture but also its projects, with a focus on social justice and environmentalism, and a mission to help 'humanize the city' and create more equitable open and green spaces. Allen and his team are passionately committed to helping tackle the homelessness crisis in Los Angeles, with affordable housing projects and permanent supportive housing projects.

Along with large scale, multi-acre projects such as institutional retreats and urban parks, Allen is drawn to quirky, innovative, multi-sensory projects, at the confluence of history, art, and design. Key to SALT's ethos is the absence of single authorship, and the ambition that every design and project should always be 'more about the user than the author'.

Allen is a member of ASLA and was the co-chair of the Los Angeles Department of Transportation Pedestrian Advisory Committee. He is currently providing pro-bono consulting to the Take Back the Boulevard and Rock the Boulevard initiatives, where he is helping community leaders shape a plan to bring complete street improvements to Colorado and Eagle Rock Boulevards in the Eagle Rock neighborhood of Los Angeles. Allen is also a member of the Council District 14 Median Advisory Committee, where he is helping to develop a sustainable, low-water, and low-maintenance planting strategy for medians in the district.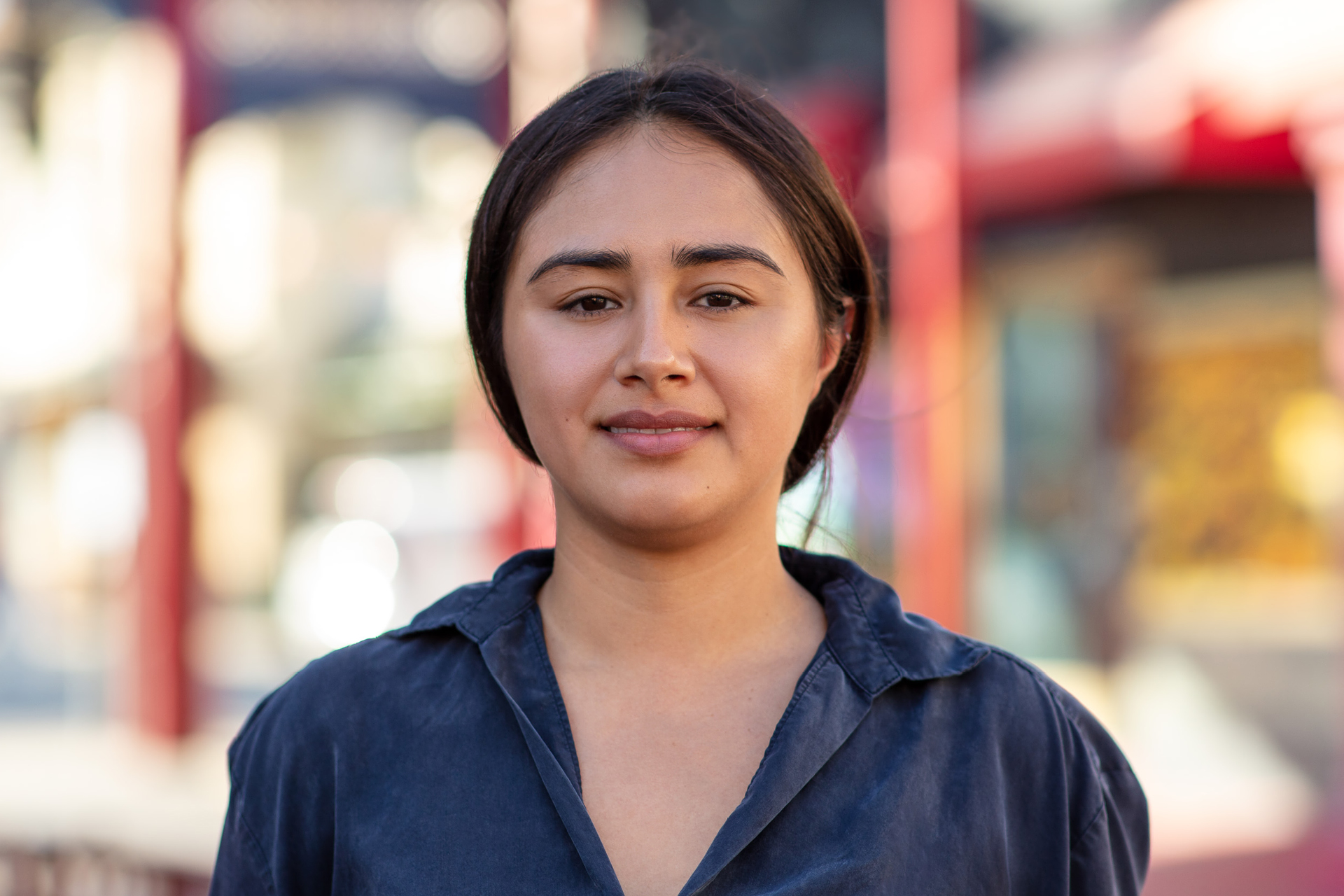 ADRIANA GARCIA
senior designer
With a background in community outreach and public space advocacy, Adriana approaches design with an understanding of inclusivity and aims to empower underserved communities in her hometown of Los Angeles. Her longstanding interest in ecology led her to pursue a study aboard program in Italy, which afforded her a close appreciation of the European roots of landscape architecture. Her subsequent internship with a horticulturalist at the Rancho Los Cerritos Historic Site in Long Beach provided her with a knowledge of local California landscapes, gardens, and plant palettes. The complimentary scope of her experiences now inspires her in designing flexible spaces for neighborhoods that include urban farming and working creatively with water conservation in irrigation design.

Early in her career, she worked with From Lot To Spot, a local nonprofit that creates accessible green space in low income communities. Her current involvement with the Unhoused Research Project at SALT has led to voluntary work with the grassroots organization Los Angeles Community Action Network (LA CAN), transforming a vacant lot into a collection of mobile homes for members of the homeless community on Skid Row. 'Landscape architecture can be a catalyst for real social and environmental change,' says Adriana. 'I'm passionate about embedding social and environmental justice into projects to bring more equality, in every sense, into our built environments and communities.'
AMANDA HUI
associate
Drawn to landscape architecture's diverse and interdisciplinary nature, and the opportunity to marry technical skills and creative expression, Amanda values exploring the uniqueness of each project. Her approach begins with a comprehensive research dive to discover what makes a site special, which she believes leads to more meaningful designs where the site history is incorporated into the landscape for the user to experience.

Before joining SALT, Amanda worked on the redesign of Walt Disney's Epcot Experience, a project of enormous scale. Now, working widely on projects for high schools and universities, she is grateful for the chance to help educational establishments adapt to in-person teaching during a global pandemic. 'To be able to work on something so relevant to our time is enormously satisfying,' says Amanda.

Intent on generating designs which help solve or revolutionize societal and environmental problems, including the housing crisis and California's droughts, she believes that design solutions should be not only integrated but brought to the forefront and celebrated.
ANNIE PAI
senior associate
Growing up in the city of Taipei, Taiwan, where outdoor space was at a premium, Annie developed a deep affinity for parks, gardens, and public spaces. After settling in Los Angeles, becoming a mother instilled a strong desire in her to support the community in simple but important ways, such as increasing shade coverage so park benches are comfortable for families to use - work which she feels also connects her family life to her professional life.

Her work on the Cedars Sinai Hospital Healing Garden – an open green space for staff, patients, and visitors alike – has been of particular meaning to Annie, having spent time with her own mother in a hospital in Taiwan, where there was no access to green space. 'Nature is like water for humans,' she says. 'It has the ability to heal and comfort'. She has also worked pro-bono designing outdoor space for a rehabilitation center for teenagers with alcohol and drug problems.

Annie is an enthusiastic gardener herself, and is 'experimenting' with growing her own vegetables, which is, she says, 'a process of meditation.'
CLAIRE BOWIN
senior associate
Claire's journey to a career in landscape architecture encompasses a commitment to creative pursuits, social justice, and policymaking. After college, Claire spent two years in the Dominican Republic with the Peace Corps, working with a nonprofit organization to develop housing using indigenous materials. Upon returning to the United States, she worked as a community organizer in Boston, focusing on housing-related issues facing local seniors. She ultimately decided to leave the East Coast for Los Angeles to work as a set decorator and production designer in the film industry.

Most recently, Claire worked in long-range planning for the city of Los Angeles, developing the innovative, award-winning Mobility Plan 2035, helping to steer the car-centric city towards becoming one that better supports and encourages bicycles and pedestrians. She brings an invaluable insider's understanding of city planning and years of experience of working with politicians and stakeholder communities to SALT, as well as a determination to 'help make the city more humane'.

Facing urgent global issues such as the climate crisis, and more local ones such as the paucity of access to open space in Los Angeles, 'landscape architecture is critical to the future of our world,' she says.

ERI YAMAGATA
associate
For Eri, the greatest forms of art are uncovered and observed in the stories of everyday experiences. After qualifying in architectural design, she took a workshop with the Dutch textile artist Claudy Jongstra, which proved to be transformative for her career pursuits. The artist keeps her own flock of sheep to provide the wool for her work, which inspired Eri as a model of practice integrated with self sufficient resources, at the convergence of design and ecology. It also inspired her own textile projects, in which she uses everyday food waste as dye to reveal one-of-a-kind hues that serve as a sort of visual diary of each day. Her background in art now inspires her landscape designs, in which material and form are paramount.

She feels part of a generation of landscape architects that hold strong beliefs about equality of space. Her involvement with the Unhoused Research Project at SALT has led to voluntary work with the grassroots organizations in Los Angeles. From her research work for SALT, Eri has also created See Hear Zine, a collection of personal stories from the city's population of unhoused individuals.

With her partner, Eri designs personalized hand drawn greetings cards and is working on an illustrated children's book. Her illustration skills are frequently employed at SALT to convey landscape designs in a meaningful way, to enhance the design narrative and uniquely speak to the intended end users.
GRACE SULLANO
associate principal
A lifelong lover of plants, Grace began sketching architectural plans from the early age of five. After studying environmental design, she worked for the Eames Office before working for an urban design firm which eventually led her into the world of landscape architecture. Along the way with her stylist sister, she launched her own fashion line, Bon & Ging, which was inspired by cinema, with an experimental, tailored aesthetic, and was produced locally in Los Angeles

A native to the city, Grace is passionate about its response to climate change and the part landscape architecture can play, along with helping to introduce equality and diversity into open spaces and restoring natural habitat to the built environment. The global pandemic, she believes, has reinforced the importance of access to open space, regardless of the resources of its users.

She favors projects at the intersection of research and art, and those which look to the future and use sustainable materials; 'there are opportunities for innovation everywhere,' she says. Off-duty, she designs and builds furniture in her home wood shop.


JAMES DINH
design consultant
With an undergraduate degree in biology, and a master's degree in public health specializing in epidemiology, James saw a career in the sciences as his future. But, after a short time working in a county immunization office, he found that he craved something more creative than statistical, and landscape architecture brought together strands of science, health, and botany, with artistic and design aspects too. Now, he believes the role of landscape architecture is more crucial than ever, particularly in Los Angeles, with its dearth of shared public spaces, 'so many of which, in reality, are private', he notes.

In collaboration with other artists and sculptors, James produces large scale public art for projects across the US, which have recently included a new granite fountain in Helena, Montana - topped with a sphere fashioned from steel and bearing words such as 'equality ' and 'tolerance' - to replace a previous fountain dedicated to the Confederacy.

He has a particular interest in sites and places of memory, and tackling those which do not acknowledge memory. James was a finalist in the competition to design the National Native American Veterans Memorial in Washington DC.
JISOO KIM
associate
Jisoo's interest in landscape architecture was first sparked while she was working on a collaborative project for an animal crossing in Colorado, which allowed deer, elk, and bears to safely cross a busy highway. The work inspired her to contemplate a career which aimed to balance nature and the built environment. 'I felt that rather than tearing things down, landscape architecture could put something positive back into the universe,' she says. And back into our planet too; she has worked pro-bono on the design for a school in Lilongwe, Malawi, using sustainable building methods and materials.

Extensive travels in Greece have both fueled and fed her interest in the spatial aspects of archaeological sites and island topographies, while touring Corbusier's many buildings in France informed her ideas about concept and space and function. At home in Los Angeles, she has a particular interest in urban farming methodologies and regenerative farming strategies, as well as projects for schools, preschools, and creative campuses.

LEIGHA DELBUSSO
senior designer
After a childhood in rural Pennsylvania, when Leigha relocated to Philadelphia to study, the lack of green space and access to nature in the city was jarring, and fueled her interest in the effect that the environment, and in particular the urban environment, has on human populations. Landing on a career in landscape architecture, she believes the discipline, previously better known for creating grand gardens for equally grand homes, is now 'such a rich profession, with so much potential to make change'.

Her own schooling in the Rudolph Steiner system, which emphasizes creativity, curiosity, and individuality, and where 'art was part of my learning from day one,' influences her work today on school projects, where she aims to integrate creative approaches to learning and indoor/outdoor spaces.

She is motivated by social issues such as the homelessness crisis in Los Angeles, and a strong desire to break down the social and economic barriers that can segregate public spaces and render them exclusive or undemocratic, through design. Leigha is a certified yoga teacher – a practice that she also aims to help make less elitist and more representative.
KP KUO
designer
With a background in art and graphic design, KP was drawn to landscape architecture for its opportunity to create projects that are not only more tangible, accessible, and long lasting, but also ever evolving for the continuous benefit of the communities they serve.

Originally from Taipei, they moved to Los Angeles at a young age, but their deep ties with their home country inspire their work. The sense of collectivism she experiences there and the sense of activism she gained in her new homes in Los Angeles and Boston have fostered an appreciation for how spaces can act as tools for community building across different regions. 'It pushes me to design with accessibility in mind; to try to bring people together,' KP says.

During her studies at Northeastern University, where her achievements made her a member of the prestigious Huntington 100 recognition, her internships encompassed design firms and organizations such as California Botanic Garden, where she developed display designs. These experiences allowed KP to utilize their creative talents while also enriching their understanding of the relationship between people, places, and plants – a skillset they relishes bringing to their work for SALT, from housing developments to major landscaping competitions.

MICHELLE FRIER
associate principal
A native Southern Californian and dedicated Angeleno, Michelle was attracted to the multidisciplinary nature of landscape architecture, and – hailing from a family of artists, scientists, and educators - its marriage of art and science. Studying under an interdisciplinary design program at Washington State University and abroad at the University of Cambridge not only gave her fresh perspectives on how users interact with landscape and space, but also instilled in her a lifelong devotion for international travel.

Early in her career, a mentor instilled the importance of passion and a pioneering spirit, that 'this isn't just something I just do, it's a movement I want to be to be a part of.' She's inspired by community-based projects, particularly those that address the nature deficiency in urban areas and the inequitable access to open space. A student of the Horticultural Therapy Institute, she also sees landscape – whether school gardens, community farms, or large regional parks – as a healing tool in mental and emotional issues.

With a passion for public art in the landscape, she has participated in the design and installation of multiple personal public art projects, and has written numerous grants for both public and private projects that celebrate the connection between art, architecture, and nature. Michelle sits on the board of the LA Forum for Architecture and Design and teaches design studio in the landscape architecture department at Cal Poly.

SARAH LINDELL
associate principal
Sarah's winding path to landscape architecture took in many creative careers en route. A vocalist and violinist, playing classical and bluegrass, she travelled through India studying Indian classical violin before later working as a sculptor, fabricating large scale steel works of art. Growing up in Vermont, however, instilled in her a passion for plants and nature, and strong opinions about the importance of the outdoors and open space. 'I definitely draw upon all of my experiences in my designs and the way I approach landscape,' she says. With a strong commitment to improving equity of open space, in she aims to bring nature, or experiences that mimic nature, into urbanized spaces as a point of respite.

Sarah has also worked in early intervention with children with special needs, and specifically autism, and that has carried over into her approach to designing outdoor spaces, especially in schools and early education projects. Her designs typically include aspects that promote sensory activation with sound, smell, and touch. 'As landscape architects, we can advocate for policy, but there are also things that we can do from a design practice perspective, to make a difference, with humane design that interacts with the city,' she says.

SASHA ANEMONE
designer
Sasha's circuitous path to landscape architecture took in passions which are now at the core of her approach to design. Her background in social justice and horticulture informs her sensitivity to both the physical and cultural context of projects - the forces at play within the environment itself and the needs of the people using it.

Originally from the East Coast, Sasha studied music and liberal arts before following her longstanding love of horticulture and working as a professional gardener. Later, she joined a non-profit seeking to end the death penalty in the Unites States, an experience which strengthened her commitment to addressing inequality wherever possible. Turning to landscape architecture to draw together these complementary threads, she was named a Landscape Architecture Foundation Olmsted Scholar in 2020.

After arriving in Southern California, she gained the perfect introduction to the region's diverse ecological environment and deepened her understanding of her profession's interplay with it by collaborating with the plant and landscape expert Robert Perry. At SALT, whether working on a public park, affordable housing development, or commercial projects, she values creating spaces which are inclusive, compelling, and comfortable, while also prioritizing responsiveness to the opportunities and challenges of Los Angeles' climate.

VERONICA SKOK
designer
Attracted to the blend of design and environmental stewardship afforded by landscape architecture, Veronica is passionate about inspiring an appreciation for the outdoors.

Before joining SALT, she was based in St. Louis, Missouri, designing theme parks and zoos spread across the United States. When she relocated to Los Angeles, the chance to change the scale of her work and focus on gaining an in-depth knowledge of a specific city was a major draw, as was the challenge of creating appealing green spaces in an urban context. 'The pandemic has given us all more gratitude for those little moments of restoration while being outside,' she says. Still a dedicated traveller, she has a particular interest in how different places succeed in encouraging people to gather and celebrate being outdoors, whatever their climate.

At SALT, she values the implementation of sustainable materials and California native plants. She strives to continue building her skills in BIM (Building Information Modeling) because she understands the benefits of its use in the practice of landscape architecture. She is intent on expanding her knowledge of fire-wise design in order to reduce the impact of the region's catastrophic wildfires.

HILDEGUN VARHELYI
creative director of special projects
In her native Stockholm, Sweden, Hildegun founded the design studio Riifi, where she was creative director for over a decade, working on brand strategy, marketing, and advertising for fashion retailers including H&M and Benetton.

A longstanding interest in garden history and urban design later drew her to train as a landscape architect, through which she could also pursue her desire to make cities more habitable and better places to live. She brings an innately Scandinavian design aesthetic to her work, which she says is 'is ingrained in us', along with an equally Scandinavian commitment to supporting the most marginalized members of society and promoting social justice.

With the coronavirus pandemic revealing the true extent of inequities in access to open space, while also reinforcing its importance, Hildegun is committed to helping solve this challenge through design of more democratic public spaces. She also sees landscape design as having an urgent mission to work on issues of climate change, and, particularly in Southern California, water shortages and droughts.

Hildegun is an adjunct artistic professor at SLU, the Swedish University of Agricultural Sciences, and splits her time between Stockholm and Los Angeles.
JAMIE HEITNER
design consultant
Growing up in Pittsburgh, Pennsylvania, in a household of antiques and enthusiastic gardeners, Jamie was raised with a strong appreciation for artifacts, and traditional, historical design sensibilities. Through her later studies, she developed a complementary appreciation of contemporary design and minimalism.

She majored in art history and spent a year abroad in Paris, and, after graduating, joined archaeological digs in Israel and worked as an objects art conservator at the American Museum of Art History and the Metropolitan Museum of Art. When she eventually realized she 'didn't only want to fix things,' landscape architecture connected the dots, incorporating historical research, interior design, industrial design, nature, and ecology.

As a new mother in Los Angeles, she noticed the way in which children's playgrounds created spontaneous and democratic social interaction, which inspired a strong interest in the design of parks, playgrounds, and community schools and gardens, as well as synagogues. With a keen sense of space planning, Jamie feels strongly about flow and how spaces are connected, as well as equality of access to green space in urban areas.