BIG BOX
SALT Landscape Architects is proud to be collaborating with LOHA on Big Box DD, an innovative multi-use office and retail complex planned for Detroit's Historic Eastern Market.
Located directly along the Dequindre Cut Greenway, Big Box DD seeks to continue the City of Detroit's rich history of innovation, public art, and industry by providing creative workspaces in a publicly engaged, shared environment.
The entry into Big Box, linking the Dequindre Cut bike path to the heart of Eastern Market.
Above: an aerial view of Big Box highlights its unique structure, which allows for a varied and complex landscape. Below: The project connects directly to the Dequindre Cut, making it a thoroughfare for cyclists and pedestrians.

A radial configuration of stacked, modified shipping containers surrounds a central courtyard and is fully accessible from both the street and the adjacent greenway. With an open-air courtyard, public terraces, and civic plazas, Big Box DD will host a wide range of flexible, indoor-outdoor programming such as markets and performances. Elevated walkways and planted roof terraces amplify these experiences and allow for programming and dynamic views from multiple levels.

Pedestrian and bike friendly, the landscape strategy focuses on maximizing public and civic engagement, connecting the site to the street, Eastern Market, East Riverfront, and beyond. For those travelling along the Dequindre Cut, the bikeway adjacent plaza also includes an accessible ramp and large amphitheater seating area for gathering, rest, or people watching.


With natural materials like wood and stone, bright displays of fall color, lush understory planting, and meadow, the landscape draws upon the local ecology and industrial past to create a pocket of respite in a rapidly burgeoning area. Sitting on disturbed brownfield with clay-based soil, Big Box DD will also employ innovative stormwater strategy to mitigate runoff and focus on planting for habitat restoration.

On the Eastern Market Side of the project, an open plaza invites the public into Big Box.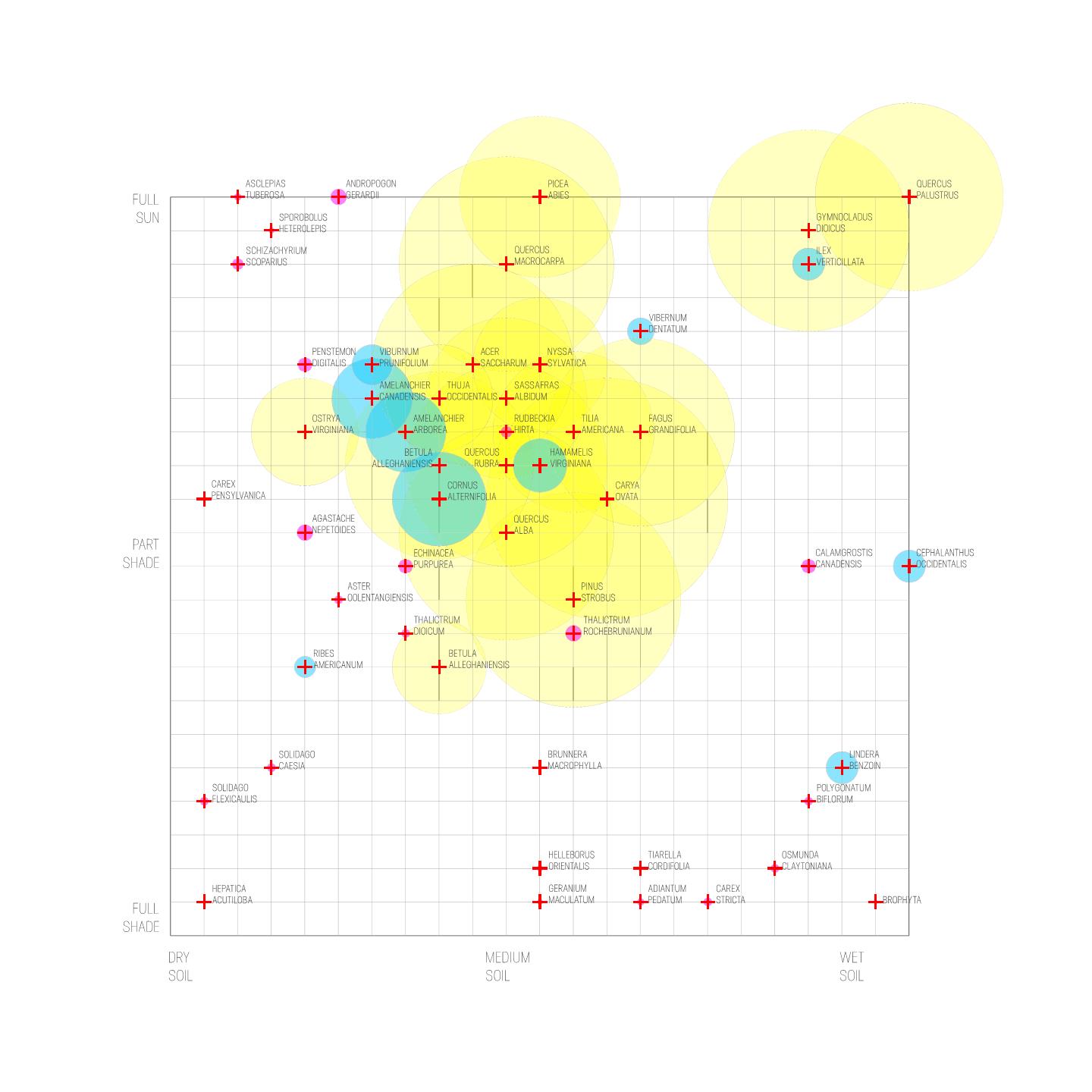 A planting diagram shows the size, sun, and water needs of local herbaceous species.
This context map shows the location of the site relative to Easern Market, the Dequindere Cut, and The Detroit River. It also calls out and neighborhoods, from Forest Park to Island View, Downtown to Corktown, Belle Isle to Midtown.